Written by Sukumar Bandreddi and directed by Palnati Surya Pratap, the 18 Pages Telugu-language romantic comedy movie is produced by GA2 Pictures and Sukumar Writings and stars Nikhil Siddharth and Anupama Parameswaran.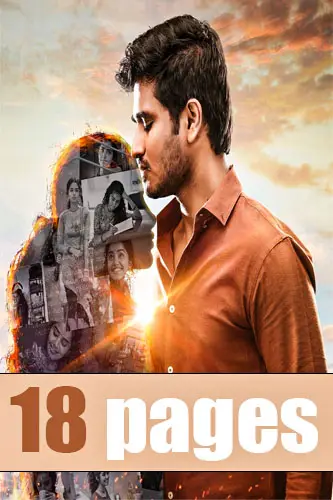 18 PAGES
2022
Comedy, Drama, Romantic
Cast: Nikhil Siddhartha, Anupama Parameswaran, Dinesh Tej
Director: Palnati Surya Pratap
Table of Contents
18 Pages Movie Overview
| | |
| --- | --- |
| Movie | 18 PAGES (2022) |
| Language | Telugu |
| Release Date | 23 December, 2022 |
| Stars | Nikhil Siddhartha, Anupama Parameswaran, Dinesh Tej, Posani Krishna Murali, Brahmaji, Ajay, Goparaju Ramana, Sarayu |
| Country | India |
| Genres | Comedy, Drama, Romantic |
| Director | Palnati Surya Pratap |
| Writer | Sukumar Bandreddi |
| Producer | Bunny Vasu |
| Production House | GA2 Pictures, Sukumar Writings |
| Cinematographer | A Vasanth |
| Editor | Navin Nooli |
| Music | Gopi Sundar |
| Presenter | Allu Aravind |
18 Pages Movie Review
People have shared mixed reactions to the new movie, 18 Pages. Some viewers have pointed out that it attempts to tackle a complex issue in a positive light, but many others feel it fails to do justice to the topic.
Regardless of the opinion, 18 Pages is an exciting addition to the conversation about mental health awareness, and its release has prompted many meaningful conversations among viewers.
It is a widely discussed topic among moviegoers and people on social media who are eager to discover other viewers' thoughts after watching the movie.
With such opinionated debates at hand, anyone can know beforehand how exciting and surprising the ending will be. People with different points of view further make this movie more thrilling for all its audiences.
18 PAGES (2022) Movie Release Date
18 Pages movie is arranged to theatrically launch on December 23, 2022.
About 18 Pages Movie 2022
The story revolves around a love affair gone sour: Siddhu (Nikhil Siddharth), an app developer, loves a girl, but she cheats on him.
It pushes Siddhu into depression, and He comes across Nandhini's (Anupama Parameswaran) diary on the road and starts reading it.
He slowly falls for her and learns many interesting facts about Nandhini, and a big twist comes into the tale when he tries to meet her.