Paayum Oli Nee Yenakku is a Tamil movie that stars the talented actor Vikram Prabhu. In this film, Karrthik Adwait combines thrilling movement and heartfelt family of relatives drama that grabs the attention of the viewers. With an imminent release in theaters, the creators are gearing up to give a cinematic experience that will leave audiences breathless.
In "Paayum Oli Nee Yenakku," Vikram is in serious trouble that will affect his family. The movie is based on a backdrop of the crowded city of Chennai. The story continues in the modern world. It allows audiences to easily connect with the characters and their struggles.
People are waiting to watch a powerful and emotional performance from Vikram Prabhu with his great performing capabilities and versatility. As the creator, director, and producer of the movie, Karthik Adwait has beautifully crafted a gripping narrative. It explores the complexities of families and search of justice through emotional reactions.
Paayum Oli Nee Yenakku movie is ready to provide an action-packed and emotional storyline. Vikram makes bold choices and faces enemies to protect his family. The film is ready to take audiences on an unforgettable journey.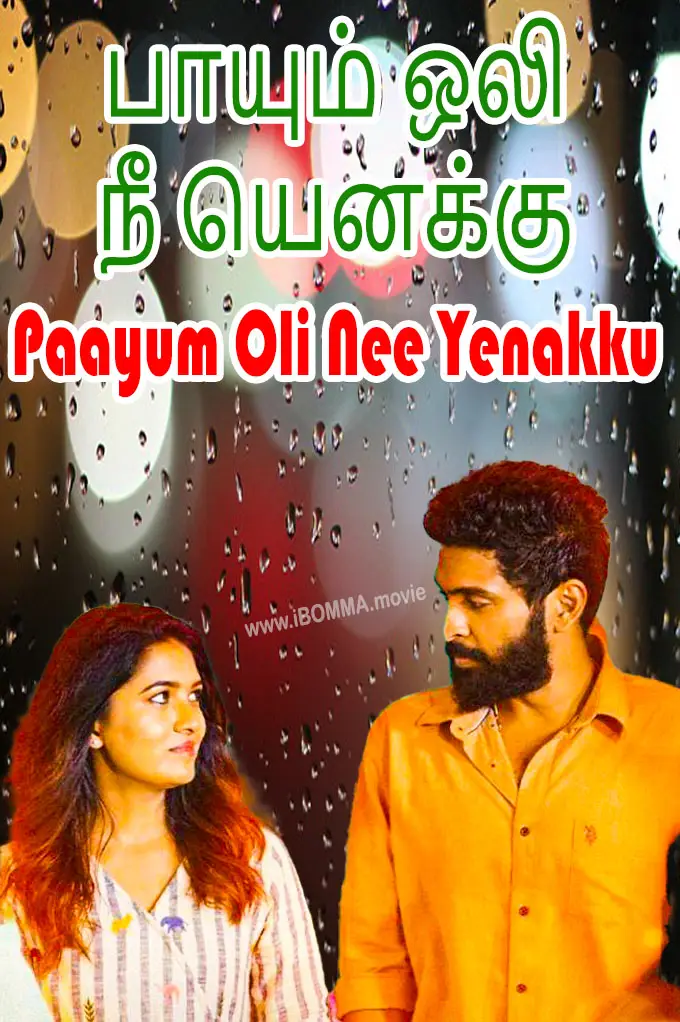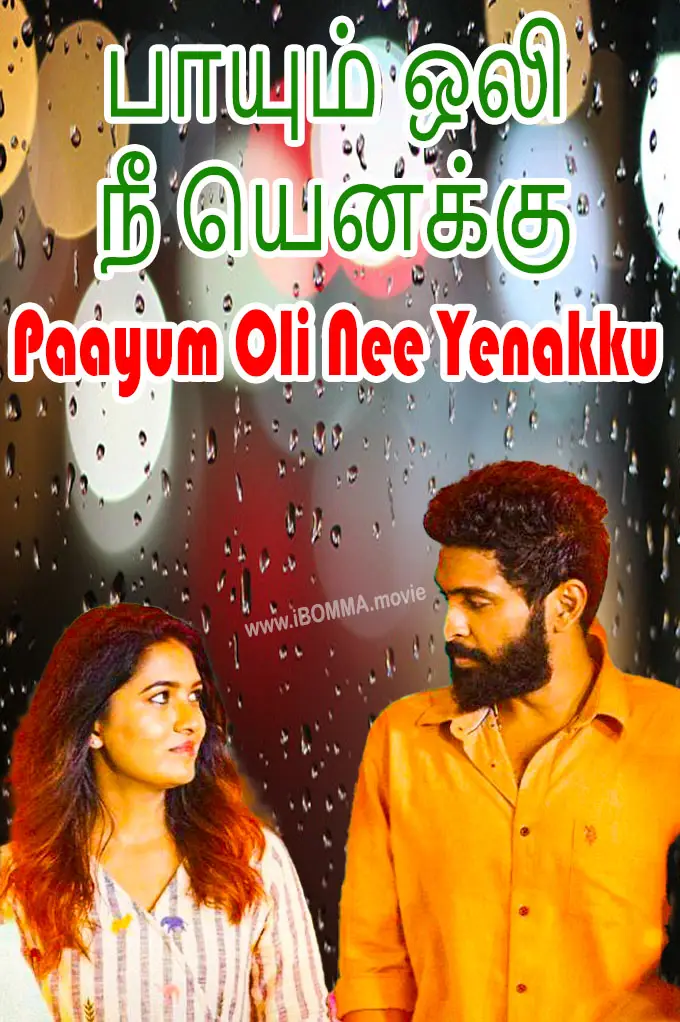 Paayum Oli Nee Yenakku
2023
Action, Mystery, Thriller
Cast: Vikram Prabhu, Vani Bhojan, Vivek Prasanna, Dhananjay, Vela Ramamoorthy, Guna Babu
Director: Karthik Adwait
Table of Contents
Overview
| | |
| --- | --- |
| Movie | Paayum Oli Nee Yenakku |
| Language | Tamil |
| Screen | 2D |
| Release Date | 23 June, 2023 |
| Stars | Vikram Prabhu, Vani Bhojan, Vivek Prasanna, Dhananjay, Vela Ramamoorthy, Guna Babu |
| Country | India |
| Genres | Action, Mystery, Thriller |
| Director | Karthik Adwait |
| Co-Director | Harendhar Balachandar |
| Producer | Karthik Adwait |
| Cinematographer | G. Sridhar |
| Editor | C. S. Prem Kumar |
| Co-Editor & Teaser | Sam RDX |
| Writer | Karthik Adwait |
| Music | Mahathi Swara Sagar |
| Original Background Score | Sunny – Saketh |
| Trailer Background Score | John Robins |
| Sound Effects | C. Sethu |
| Sound Design | M. Rajakrishnan |
| Art | P.L. Subenthar |
| Stunt | Dinesh Kasi |
| Lyrics | Karthik Netha |
| Choreography | Dhastha |
| Astro Consultant | Balu Munnangi |
| Colorist | Ranga (Igene) |
| VFX Supervisor | Bharath Polagani |
| Dialogues | Dilsuyan.J |
| Makeup | V. Sekar Babu |
| Costumes | Wajid.A |
| VFX | Pixelloid |
| Production company | Karthik Movie House |
| Production Manager | U.Udhaya kumar, J.Bharathi Raja |
| Distributed by | SP Cinemas |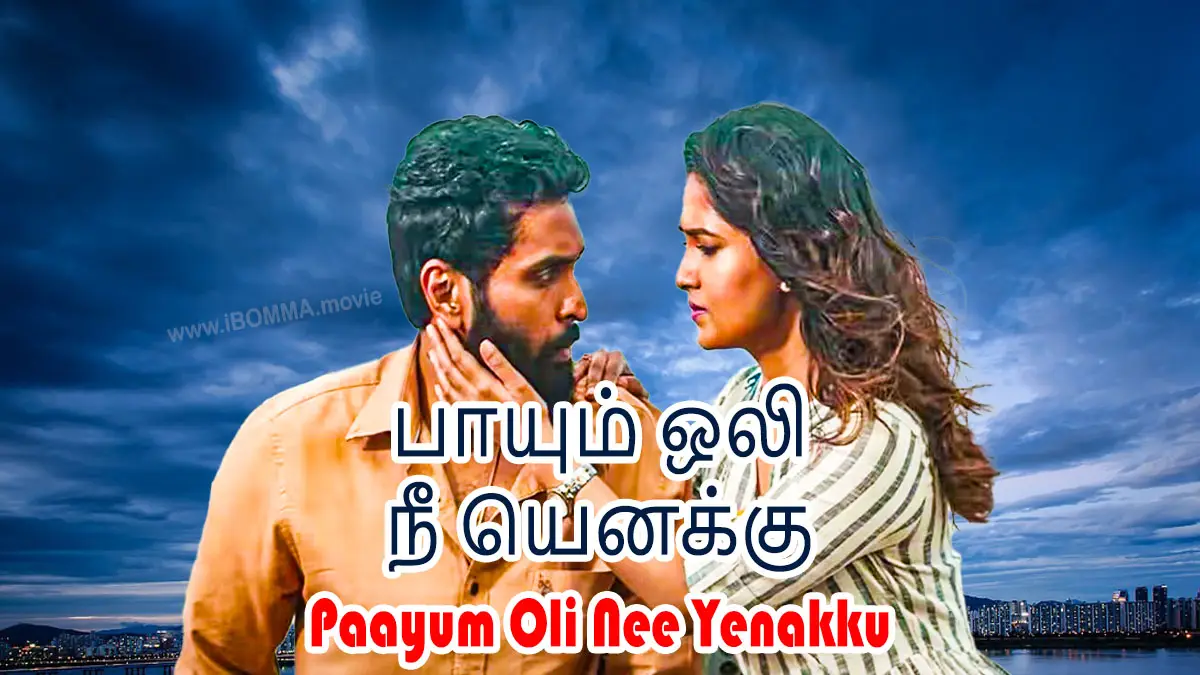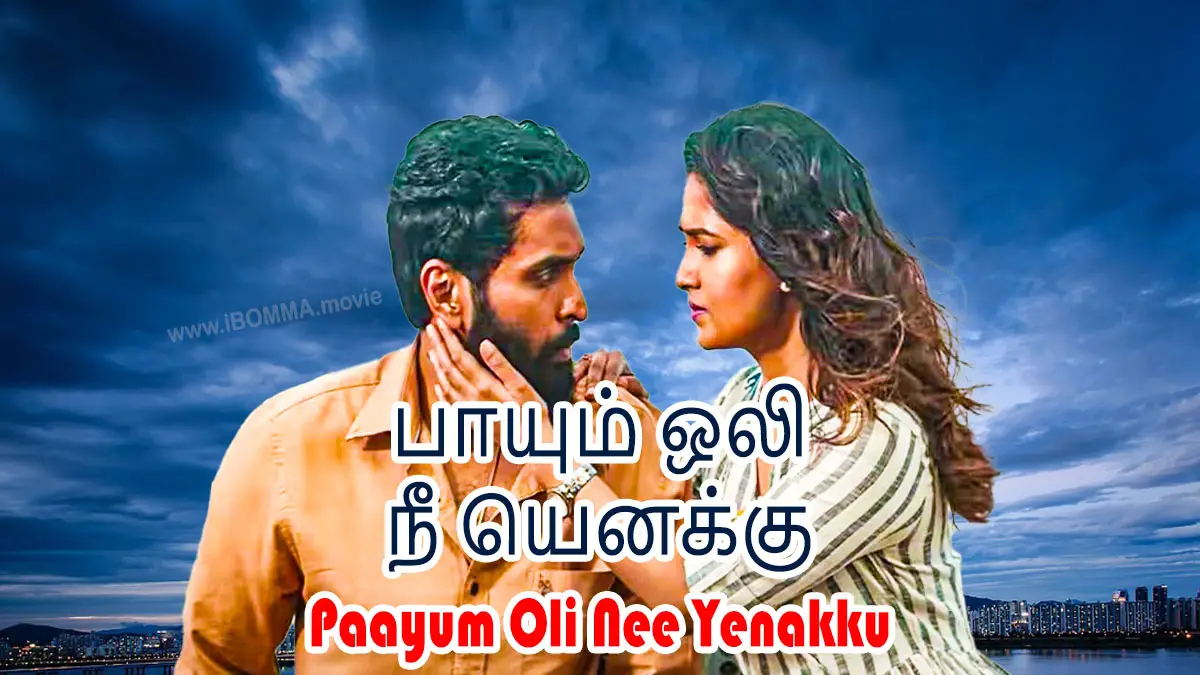 Paayum Oli Nee Yenakku Movie Review
The movie Paayum Oli Nee Yenakku showcases the super skills of Dhananjaya, a well-known actor from the Kannada movie industry, and Vivek Prasanna, a renowned comedian. His performance in pivotal roles promise to captivate audiences with his skill and flexibility.
Maha Mahalakshmi Arts is serving as the production company, bringing this thrilling task to life. It's an important milestone for Karrthik Adwait as a director. As a clean and promising talent, Adwait is ready to showcase his work along with his unique imaginative and prescient and storytelling strategies.
Added to the movie's charm is the remarkable musical score composed by Swara Sagar, the son of Mani Sharma. Adding charm to the music, the original background score is beautifully done by Sunny – Saketh, which provides awesome feel and experience while watching the movie.
Sagar brings his inherited talent and revolutionary approach to create a charming soundtrack that heightens the suspense and intensifies the motion.
Working alongside Sagar is cinematographer Sridhar, who skillfully captures the film's visuals, improving the overall cinematic experience. Sridhar's skill at framing shots and manipulating lights will transport the target audience into the center of the exciting narrative.
The editing duties are assigned to Kotagiri Venkateswara Rao. Rao's mastery of his craft allows him to form the tale, improving its effect and handing over a dynamic and engaging viewing experience.
PL Subenthar brings his innovative style to create visually beautiful scenes and environments that add depth and richness to storytelling. Subenthar's creative work enthralls the story.
Choreographer Dinesh Kasi takes charge of the movie's exciting motion sequences. With his expertise and creativity, Kasi designs and executes action-packed stunts that keep the audience on the edge of their seats, flawlessly complementing the intense storyline.
With a celebrity-studded cast, a talented group, and a gripping plotline, this action-packed thriller promises to deliver an unforgettable movie-watching pleasure. Prepare to be thrilled as this talented crew combines their abilities and ardour to create a cinematic masterpiece so as to keep you at the brink of your seat from begin to finish.
Story
This movie Paayum Oli Nee Yenakku takes the target audience on a dramatic and emotional adventure. It focuses on the lifestyles of a young boy who reveals himself in a tough situation. The story revolves around the surprising occasion of the boy witnessing the brutal homicide of his beloved brother. This is an incident that will forever change his life.
The young hero embarks on a courageous mission. This adventure is not just about revenge, but also uncovering the fact at the back of the brutal act that shattered his own family. He is going on a dangerous journey that tests his self-control and physical strength.
As the narrative unfolds the boy encounters the emotional effect of the shocking incident. The film is going deep into the results which have an iconic impact on the young boy's thoughts. The story explores the depths of his emotional condition and highlights the intellectual impact at the boy.
Trailer
FAQs
What is the release date of the Paayum Oli Nee Yenakku movie?
Paayum Oli Nee Yenakku movie is set to release in theaters on 23 June 2023.
Who directed the movie Bhari Taraganam?
The movie is directed by Karthik Adwait.
Who is in the cast of Paayum Oli Nee Yenakku?
Vikram Prabhu, Vani Bhojan, Vivek Prasanna, Dhananjay, Vela Ramamoorthy, Guna Babu
Similar Movies