Sir/Vaathi movie review ibomma, where to watch, story, cast: "Sir" is a Telugu movie that features a blend of action, drama, and romance and stars Dhanush and Samyuktha Menon in lead roles, with appearances from other notable actors like Srinivas Reddy, CVL Narasimha Rao, Prabhas Sreenu, and Mahesh Achanta.
The film is directed by Venky Atluri and produced by Suryadevara Naga Vamsi and Sai Soujanya under the banners of Sithara Entertainments and Fortune Four Cinemas, respectively.
Dhanush is known for his ability to play diverse roles in his movies. The film's title, "Sir," has garnered significant attention, and the first look teaser has received positive responses on various social media platforms.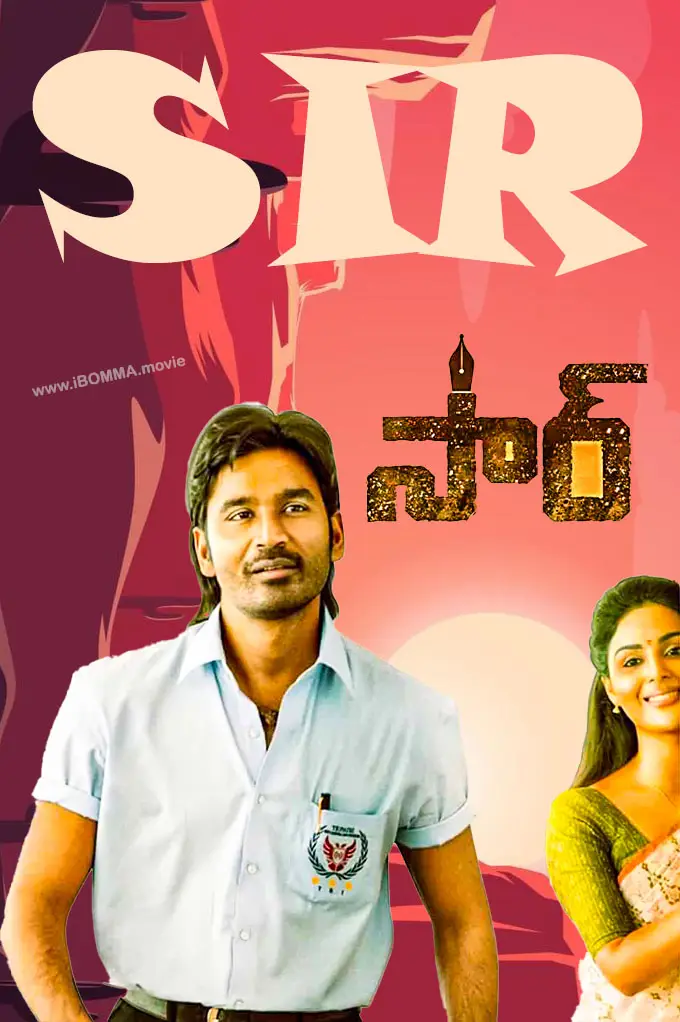 Sir/Vaathi
2023
Action, Drama
Cast: Dhanush, Samyuktha Menon, P. Sai Kumar, Tanikella Bharani, Samuthirakani, Thotapalli Madhu, Narra Srinivas
Director: Venky Atluri
Table of Contents
Sir/Vaathi movie Overview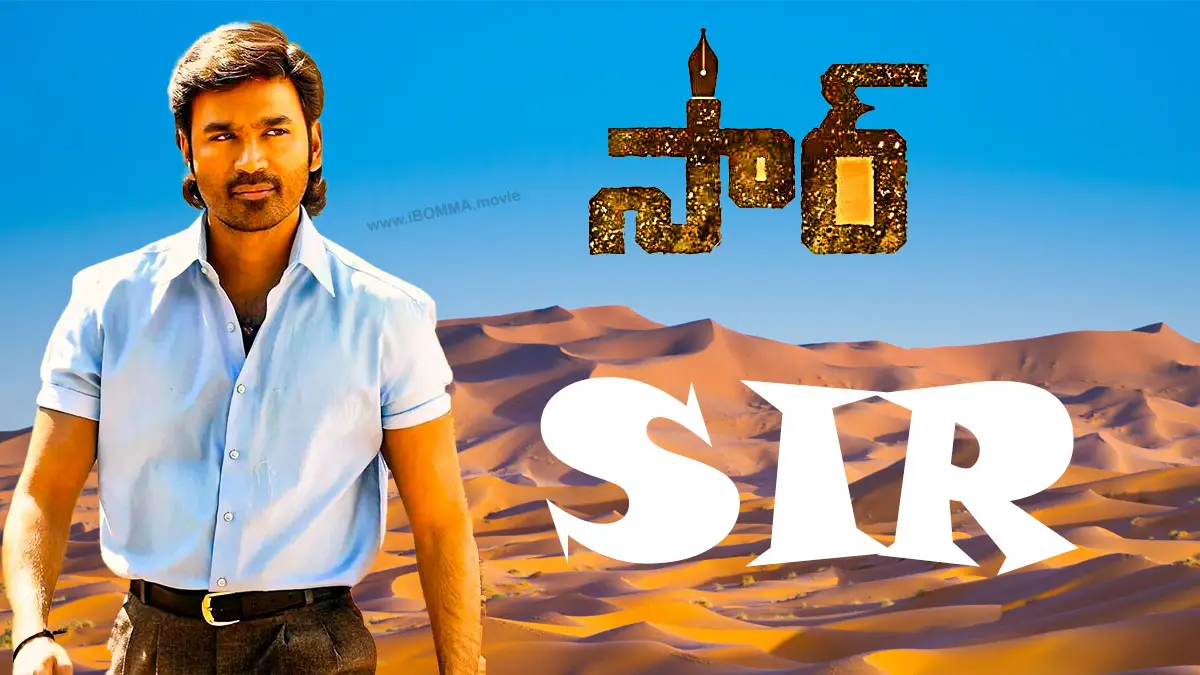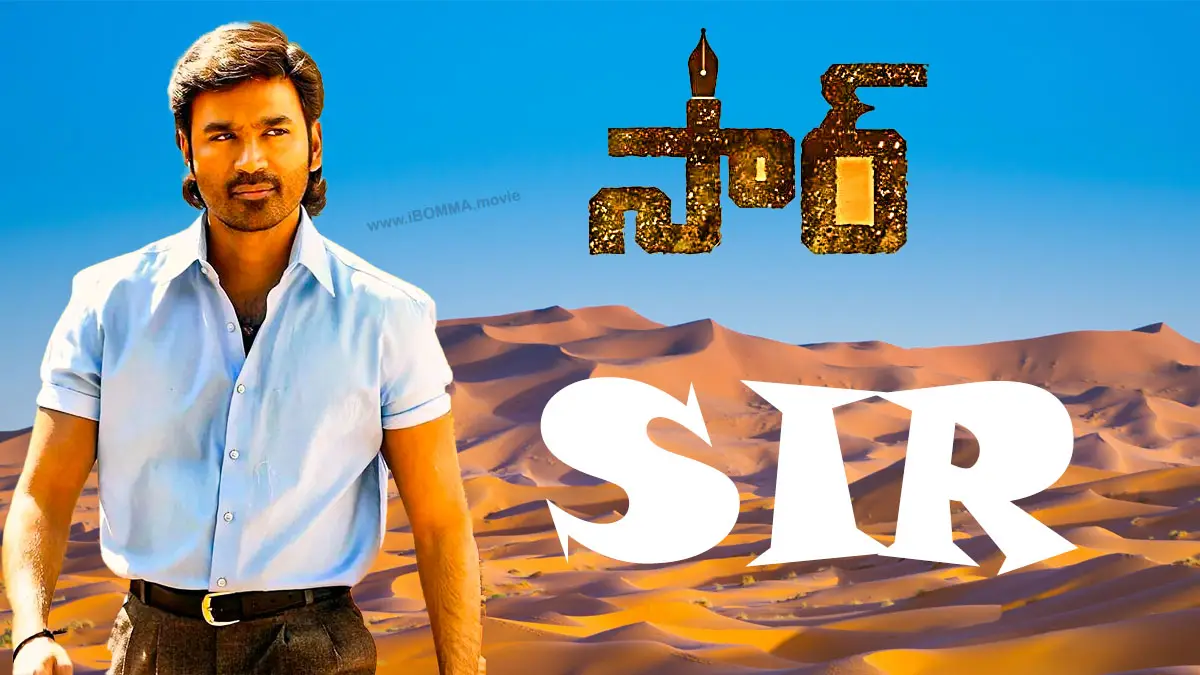 | | |
| --- | --- |
| Movie | Sir |
| Language | Telugu |
| Screen | 2D |
| Release Date | February 17, 2023 |
| Stars | Dhanush, Samyuktha Menon, P. Sai Kumar, Tanikella Bharani, Samuthirakani, Thotapalli Madhu, Narra Srinivas, Pammi Sai, Hyper Aadhi, Shara, Aadukalam Naren, Ilavarasu, Motta Rajendran, Hareesh Peradi, Praveena |
| Country | India |
| Genres | Action, Drama |
| Director | Venky Atluri |
| Writer | Venky Atluri |
| Producer | Suryadevara Naga Vamsi, Sai Soujanya |
| Cinematographer | J. Yuvaraj |
| Distributed by | PVP Cinema, Seven Screen Studio, Sony Pictures, Skanda Cinemass, Einstin Media |
| Music | GV Prakash Kumar |
| Production Companies | Sithara Entertainments, Fortune Four Cinemas Srikara Studios |
Story
The story of Vaathi/SIR revolves around a young teacher who stands up against the president of a private university and emerges victorious. However, in the SIR's version of the story, the teacher goes against the entire educational system and fights for the rights of students.
Some students struggle with the rigorous coaching they receive at school. In contrast, others enjoy watching old videos that their father decides to sell because he wants to make more money since his business is no longer profitable.
As they watch the videos, the students discover easy math lessons and become curious about the teacher who taught them. They set out to find the teacher, and after a long search, they finally discover that the teacher is far from their district in Kadapa, Andhra Pradesh, where it all began years ago.
The teacher's determination to provide quality education to his students, despite the challenges he faces from those in power, is inspiring. His story highlights the importance of standing up for what is right, even when it means going against the norms of society.
The struggles of students who are pushed to excel academically are also portrayed in the story. Some students thrive under pressure, while others struggle to keep up. The story emphasizes the need for a balanced approach to education that recognizes each student's individual needs and abilities.
Review
"Sir," a movie directed by Venky Atluri, brings back memories of college life in the 1990s when private universities and coaching centers were becoming popular due to the high demand for engineering and medical courses.
The movie shows how education should be available to everyone regardless of their financial background. The message is excellent, but the film can sometimes be repetitive and boring.
The film's story is about a young man named Ratna who works as a live-in maid for a wealthy family in Mumbai. He has a passion for fashion design and dreams of opening his boutique someday. However, his family's financial situation forces him to drop out of college and work as a domestic helper.
Later, he meets Ashwin, a man from a wealthy family, who becomes his employer. Ratna and Ashwin develop a close friendship and bond over their shared passion for art and design.
The movie touches upon class differences and the struggles of people from poorer backgrounds to achieve their dreams. It highlights the importance of education and how it should not be a luxury but a fundamental right accessible to all. The film's message is relevant in today's society, where education has become a commodity that only the wealthy can afford.
Despite the movie's shortcomings, Dhanush, who plays the lead role, delivers an excellent performance. The rest of the cast also performs well, adding depth to the story. However, the film tends to become repetitive sometimes, making it unexciting for some viewers.
In conclusion, "Sir" is a movie that addresses essential education and social inequality issues. It reminds us that everyone should be able to pursue their dreams, regardless of their financial background. While the film can be unexciting at times, it's worth watching for its special message and strong performances by the cast.
Where to Watch?
The movie SIR has already been released in theaters on 17 February 2023 and is receiving high praise from both audiences and critics. If you missed the opportunity to see it in theaters, there are still ways for you to watch it at home.
One of the most convenient ways to watch SIR at home is using OTT (Over-the-top) platforms such as Netflix. The movie is available on Netflix, one of the largest streaming platforms with a massive collection of titles worldwide. With a Netflix subscription, you can easily access SIR by clicking this link: https://www.netflix.com/in/title/81681253.
New movies and TV shows are frequently added to Netflix's inventory, so watch for new arrivals! Anyone looking for a sentimental romantic drama would be delighted with SIR on Netflix.
Depending on distribution rights, SIR may also be available on other OTT platforms such as Amazon Prime Video, Disney+, Zee5, or Hotstar. It's always a good idea to check if the movie is available before subscribing to these platforms.
FAQs
What is the movie Sir about?
Despite the political storm surrounding education in the 1990s, an assistant math teacher took responsibility for improving the learning of underprivileged children.
Who is in the cast of Sir?
Dhanush, Samyuktha Menon, P. Sai Kumar, Tanikella Bharani, Samuthirakani, Thotapalli Madhu, Narra Srinivas, Pammi Sai, Hyper Aadhi, Shara, Aadukalam Naren, Ilavarasu, Motta Rajendran, Hareesh Peradi, Praveena
When will Sir be released?
Sir is set to release in theaters on 17 February 2023.
Who is the director of the movie Sir?
The movie is directed by Venky Atluri.
Similar Movies to Watch